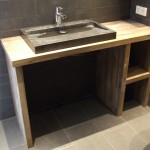 Welkom op de website van EVL BOUW & design
Heeft u een aannemer nodig? Zoekt u dan niet verder, u heeft ons al gevonden!
Maak kennis met EVL BOUW & design, een ervaren bouw- & aannemersbedrijf.
Waarvoor kunt u bij ons terecht: verbouwingen inclusief sanitaire ruimten, dakramen en -kapellen, serres, carports, veranda's en overkappingen, alle klussen in en om het huis  kunnen wij voor u verzorgen, daarnaast kunnen wij u voorzien van op maat gemaakte meubelen naar uw eigen design.
Of het nu gaat om een woning, kantoorpand of zelfs een productiehal, wij zijn altijd beschikbaar.
Zelfs voor het bouwen van een paardenstal of andere dierverblijven kunt u bij ons terecht.
Staat uw project er niet bij? Schroom niet, wij zijn allround, en kunnen u voorzien van kwaliteit vakwerk!
Zoals u ziet is ons vakgebied erg breed, wij hebben dan ook al 24 jaar ervaring in de bouw.
Zoals u van een vakman mag verwachten , bouwen wij op maat, volgens de wensen van de klant.
Indien u geïnteresseerd bent in onze diensten, dan komen wij graag bij u langs voor een nadere kennismaking en het bespreken van uw wensen.
Wij rekenen geen voorrijkosten en doen u graag geheel vrijblijvend een offerte toekomen!